Dust and dirt collect on all buildings including businesses in retail strips. The strip malls have buildings of all sizes with parking lots for easy access. 214 Pressure Washing has professional technicians and equipment designed for soft washing and power cleaning for buildings, walkways, and parking lots in the Dallas-Ft. Worth Metroplex area.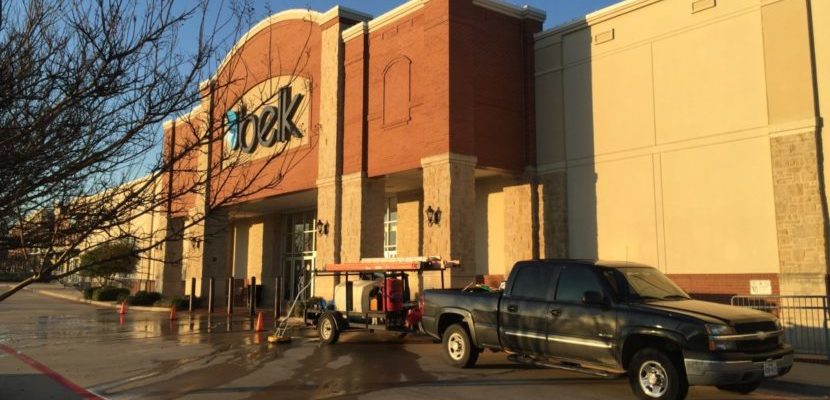 Storefronts
A clean storefront is the first impressions customers have of your business. This is curb appeal for all retail operations. Customers generally want to enter clean premises, especially when businesses are selling food and related services. Dirty buildings, walkways, and parking lots are not inviting.
The strip mall may have one anchor store such as a supermarket flanked by several smaller businesses and chain stores. The area may include a stand-alone drive-thru food chain or other buildings. All of the storefronts, starting with the anchor store, must be clean. In addition, signage and awnings should be clean.
A good pressure washing on retail strip mall businesses removes:
Dust and dirt
Stains from rust, birds, leaves, etc.
Gum and other sticky foods and liquids
Stains from rainwater
The amount of pressure applied to buildings, awnings, and signs will depend on the materials used in the construction. Some buildings may require a soft wash while others need high pressure to remove dirt. The back of buildings, including the delivery area, is also washed.
Walkways and parking lots
Sidewalks in front of buildings collect grime from foot traffic along with spilled food and sugary drinks, cigarette butts and other debris. High-pressure washing is usually required to thoroughly clean walkways.
The high-pressure hot water system used by 214 Pressure Washing removes oil stains, chewing gum, spilled food and drinks, bird and animal droppings, and other debris from concrete surfaces. A special deep penetrating cleaning solution is used to remove dirt and restore the surface. The system also cleans dumpster areas and drive-thru lanes of fast food stores where rotting spilled food and liquids can become health hazards.
Keeping storefronts and parking areas in retail strips clean is important for all businesses. Continued maintenance will guarantee good curb appeal. Ask us at 214 Pressure Washing about our routine maintenance programs for your retail business properties.