It is long thought that pressure washers use a large volume of water to do their work efficiently. With droughts going on in many areas, wasting any amount of water may not be very comfortable to some. However, compare pressure washing a driveway to spraying it off with a garden hose and you will find there is significantly less water waste. How much water does pressure washing use?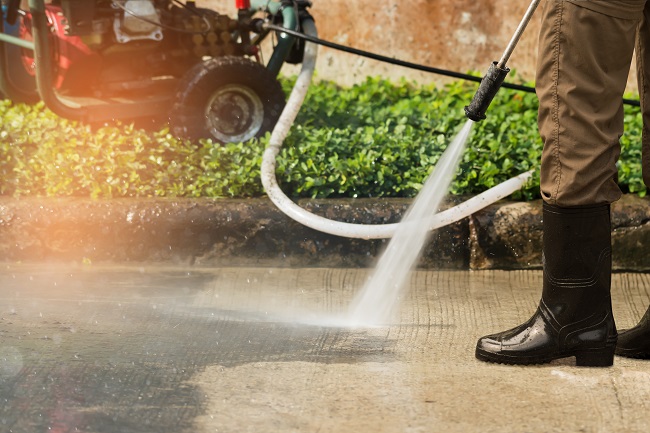 On average, your standard pressure washer uses about eight gallons of water per minute while a short garden hose can use up to 24 gallons of water per minute. Still, eight gallons is a lot, but at higher pressures, the less water a pressure washer will use. So the higher pressure you use, the more water efficient the machine becomes.
Unfortunately, cranking the pressure up as high as possible on a pressure washer does not mean the job will get done faster. What it really means is that you run a higher chance of damaging the surface you are pressure washing. If you are concerned about water waste, choosing pressure washing is a better alternative to using a very inefficient garden hose. However, the best way to maximize your water usage is to use the correct pressure so you can get the job done quickly.
If you are concerned about the amount of water used while pressure washing, but your building, deck, or driveway desperately needs a clean, it is best to let a professional pressure washing company come out and clean it. Professional pressure washers know the correct pressures to use in order to prevent damage and maximize water efficiency. If you are concerned about your water usage, then the best thing you can do is get a professional to get it done. Not only will they do it right, but they will make sure to get it done quickly. If you need a great pressure washing for any of your exteriors, contact us today.